OVERVIEW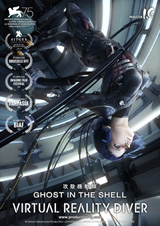 Ghost in the Shell is not SF anymore!
Production I.G launches worldwide the smartphone app Ghost in the Shell: Virtual Reality Diver now available from the App Store® and Google Play™.
Dive into the universe of Ghost in the Shell with this mind-blowing VR app based on the 2015 animated feature film Ghost in the Shell: The New Movie! An exclusive 360º three-dimensional video can be downloaded on your smartphone as an app and watched with VR goggles for an unforgettable immersive experience.
The app is available in English and Japanese. The English dub features the voice talent of Elizabeth Maxwell as Motoko Kusanagi and Christopher Sabat as Batou.
Watch the trailers here (English dub):
Normal version:
https://www.youtube.com/watch?v=Wo8rk67lOHI
360° version (Japanese only):
https://www.youtube.com/watch?v=C1iAi2yvSZE

ABOUT THE APP
♦ Title: GHOST IN THE SHELL: THE MOVIE Virtual Reality Diver
♦ Price: Download is free. In app purchase: please check App Store® and Google Play™ official websites
♦ System Compatibility: iOS 9.1 or above / Android™ 4.4 or above

♦Download links for English and Japanese versions:
*The app might not run correctly on some devices.
*VR goggles for smartphone are required to watch this video content.

STORY
"To end the war and protect my wife, I must delete you all..."
Japan, 2025. A time when cybernetic technology allows humans to connect their brains to the Network, and to replace body parts with enhanced prosthetics. In this world where the boundary between humans and machines has lost meaning, computer crime and cyber terrorism occur daily.
And now, a bombing attack threat is sent to the Japanese government. The target is an international meeting involving dignitaries from the Republic of Kuzan. The case is entrusted to the Ministry of Home Affairs' Public Security Section 9.
Section 9's leader, the the fully cyber-bodied Motoko Kusanagi, assembles her team and heads off to stop the terrorist.
STAFF
Based on the Manga by: Shirow Masamune
Screenplay: Junichi Fujisaku
Creative Director: Nobumichi Asai [WOW inc.]
Creative Supervisor: Junichi Fujisaku [Production I.G]
Character Designer: Kazuchika Kise [Production I.G]
Directed by: Hiroaki Higashi [stoicsense inc]
Music: Hideaki Takahashi
Produced by: Production I.G
ENGLISH CAST
Motoko: Elizabeth Maxwell
Batou: Christopher Sabat
Logikoma: Jad Saxton
Oribe: Marc Diraison
Yuri: Stephanie Sheh

OFFICIAL WEBSITE
http://www.sign.site/koukaku_vr/en/



♦ Apple and the Apple logo are trademarks of Apple Inc., registered in the U.S. and other countries. App Store is a service mark of Apple Inc., registered in the U.S. and other countries.
♦ Google Play and the Google Play logo are trademarks of Google Inc.






Enquiry Form
<<Please read carefully>>

·Enquiries will be answered by e-mail. However, we do not guarantee that all enquiries will be answered.

·In compliance with applicable personal information protection laws, please do not include any personal data or information in your enquiry.

·Questions may require time to be answered, and we may not be able to fully comply with your expectations.
©Shirow Masamune • Production I.G / KODANSHA • GHOST IN THE SHELL: THE MOVIE COMMITTEE.