OVERVIEW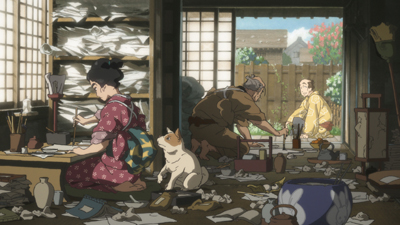 Sarusuberi: Miss Hokusai
Sarusuberi: Miss Hokusai is the new animated feature film from acclaimed Annecy-winning director Keiichi Hara (Summer Days with Coo, Colorful). The movie is based on the original manga, Sarusuberi (literally: Crape Myrtle) by Hinako Sugiura, and it is scripted by Miho Maruo (Colorful). The main staff includes character designer and chief animator Yoshimi Itazu (Denno Coil, The Wind Rises, Dreaming Machine) and background artist Hiroshi Ono (A Letter to Momo, Wolf Children). Sarusuberi: Miss Hokusai was theatrically released in Japan on May 9, 2015.
Watch the English-subtitled trailer here.

- Jury Award, 39th Annecy Animation Film Festival (2015)
- Satoshi Kon Award, 19th Fantasia Film Festival (2015)
- Gold Audience Award, 19th Fantasia Film Festival (2015)
- Prix Séquences, 19th Fantasia Film Festival (2015)
- Best Animated Feature Film, 48th Sitges Film Festival (2015)
- Jury Award, 6th Scotland Loves Animation (2015)
- Grand Prize, 17th Bucheon International Animation Festival (2015)
- Best Animated Feature Film, 9th Asia Pacific Screen Awards (2015)
- Excellence Prize, 39th Japan Academy Prizes (2016)
- Best Animated Feature Film, 70th Mainichi Film Awards (2016)
- Jury's Special Prize, 20th SICAF (2016)

What the World Said
Magnificent celebration of an independent woman and the power of art and creativity. (Annecy 2015 Jury Award motivation)
Imaginative, sophisticated, constantly concerned about returning to Hokusai and his daughter the art and soul that belong to them, Miss Hokusai sheds a discreet ray of light on interiorized pains and creative genius, which is sensitively calibrated to preserve their mystery. A lesson of elegance. (Le Monde)
Miss Hokusai manages to be that rare toon whose attention to character psychology and real-world detail can actually rival live-action. A stellar example of the oft-cited principle that animation is an art form, not a genre. (Variety)
Keiichi Hara's Miss Hokusai confirms the talent of a meticulous filmmaker who delivered a very personal film. (Cahiers du Cinéma)
Classy and gorgeously conceived. That an anime film can explore such complex subjects so beautifully in what's nominally an artist's biopic is a blessing in itself. (The Hollywood Reporter)
A magical marriage of the divergent media of Japanese painting and film animation, blending the special qualities of both disciplines with poetic beauty and evocative storytelling. (APSA 2015 Jury)
Gorgeously filmed, sophisticated, and meaningful. (Leslie Combemale, Animation Scoop)
Miss Hokusai illuminates the life and creative legacy of its brilliant subject with a beautifully animated biopic whose absorbing visuals are matched by its narrative grace. (Rotten Tomatoes)
Japanese animated films depicting emotionally credible young women are relatively rare. That Miss Hokusai does this very thing, and does it beautifully, is only one of the extraordinary things about it. (Glenn Kenny, New York Times)
Miss Hokusai is a sumptuous, sensuous animated work of art (Kenneth Turan, Los Angeles Times)
The animation is superb, with fine attention to period detail, and director Keiichi Hara's use of modern music - some of it rock-infused - is apt accompaniment to a story of a young woman who lives life boldly by refusing to bend to cultural norms. (Bruce Demara, Toronto Star)
Miss Hokusai bleeds style and grace from every frame to the extent that you can almost smell the ink as it's pressed to a paper canvas. For the imaginative and the admirers of the fantastical, this film is purely and spectacularly a work of art. (Chris Sawin, Examiner.com)

There are meditations on mortality, art, relationships, love, fear, sexuality and spirituality in this sumptuous-looking film. They cohere into a portrait of a young woman as complex as any big screen character can be. (Tom Long, Detroit News)
Exquisitely beautiful. (Daily Mirror)
Full of life and spirit... a rounded work of beauty and intellect. (Twitch Film)
Surprising, unconventional, poetic, surreal. (Toute la culture)
An outstanding celebration of feminine freedom (Télérama)
This is a film about the transcendence of art, the endurance of the human spirit and the fallibility and survival of the human heart. (Starbust Magazine)

Story
The time: 1814.
The place: Edo, now known as Tokyo.
One of the highest populated cities in the world, teeming with townsmen, merchants, nobles, artists, courtesans, and perhaps even supernatural things.
A much accomplished artist of his time and now in his mid-fifties, Tetsuzo can boast clients from all over Japan, and tirelessly works in the garbage-cluttered chaos of his house-atelier. He spends his days creating astounding pieces of art, from a giant-size Dharma portrayed on a 180 square meter-wide sheet of paper, to a pair of sparrows painted on a tiny rice grain. Short-tempered, utterly sarcastic, with no passion for sake or money, he would charge a fortune for any job he is not seriously willing to undertake.
Third of Tetsuzo's four daughters and born out of his second marriage, outspoken 23-year-old O-Ei has inherited her father's talent and stubbornness, and very often she would paint instead of him, though uncredited. "We're father and daughter; with two brushes and four chopsticks, we'll get by anywhere."
Decades later, Europe was going to discover the immense talent of Tetsuzo. He was to become best known by one of his many names: Katsushika Hokusai. He would mesmerize Degas and Van Gogh, Monet and Klimt, Edmond de Goncourt and Debussy.
However, very few today are even aware of the woman who assisted him all her life, and greatly contributed to his art while remaining uncredited. This is the untold story of O-Ei, Master Hokusai's daughter: a lively portrayal of a free-spirited woman overshadowed by her larger-than-life father, unfolding through the changing seasons.
About the Director
Keiichi Hara (Tatebayashi, 1959) worked extensively on popular family and children TV animated shows, such as Doraemon and especially Crayon Shin-chan, for which he initially served as episodic director under Mitsuru Hongo from 1992, and later as series director from 1996 to 2004. He also scripted ten Crayon Shin-chan movies, directing six. The 2001 Shin-chan franchise movie, entitled Crayon Shin-chan: Impetuous! The Adult Empire Strikes Back earned wide critical praise, and raised his profile. The following year's Crayon Shin-chan: Brilliant! The Great Battle of the Warring States was recommended by the Agency for Cultural Affairs and won five awards in Japan. Hara then shifted to independent filmmaking, pursuing more personal projects. International recognition came with Japan Academy Prize-winning Summer Days with Coo (2007) and especially with Colorful (2010), greeted with the Jury's Special Distinction and the Audience Award at Annecy 2011. Both movies received theatrical distribution in France and other countries. Hara admires classic Japanese filmmakers such as Yasujiro Ozu and Keisuke Kinoshita. To the latter, he dedicated his first live-action movie in 2013, Dawn of a Filmmaker: The Keisuke Kinoshita Story.
About the Original Author: Hinako Sugiura
Hinako Sugiura (1958-2005) was a manga artist and researcher in the lifestyles and customs of Japan's Edo period. Her distinctive style and unique storytelling made her win the Japan Cartoonists Association Award for Gasso (Joint Burial, 1984) and the Bungei Shunju Manga Award for Furyu Edo Suzume (A Refined Edo Sparrow, 1988). She also wrote numerous essays, and frequently appeared in the media as an expert on the period. Her manga, Sarusuberi on which the film Sarusuberi: Miss Hokusai is based, was published between 1983 and 1987, and gained cult status since then for the vivid portrayal of Hokusai's daughter.
© 2014-2015 Hinako Sugiura•MS.HS / Sarusuberi Film Partners