Top Page
April 11 2011: Week 3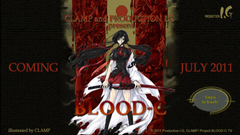 This week's Top Page is dedicated to Saya Kisaragi, the heroine in the forthcoming BLOOD-C TV series created by CLAMP and Production I.G.

Check the newly added info page of BLOOD-C here.
Oblivion Island is screening in competition at the 18th Stuttgard Festival of Animated Films. Read the details here.
Read the first part of our interview with Ren Ishimori and Ryo Hirata, the two character designers of Oblivion Island here.
Rolling blackouts in the Tokyo area have been suspended. Read the details here.