OVERVIEW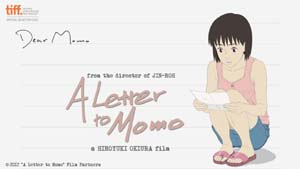 A Letter to Momo
In a world wired with high-speed communication technology,
real connection between people is getting thinner and superficial.
Are you sure you are telling your beloved ones what truly matters?

- Excellence Prize, Animation Division, 15th Japan Media Arts Festival (2011).
- Grand Prize for Best Feature Film, 15th New York International Children's Film Festival (2012)
- Platinum Grand Prize for Best Feature Film, 14th Future Film Festival (2012)
- Best Feature Film Prize, 11th AniFest (2012)
- Public Prize, 16th Fantasia Film Festival (2012)
- Grand Prize, 20th Tokyo Kinder Film Festival (2012)
- Best Animated Feature Film, 6th Asia Pacific Screen Awards (2012)
- Jury Prize, 8th Mon Premier Festival (2012)

A Letter to Momo (original title: Momo e no Tegami) is the highly anticipated second directorial effort by world-acclaimed anime director Hiroyuki Okiura (Jin-Roh). Seven years in the making, A Letter to Momo combines state-of-the-art traditional hand drawn animation with heart-warming, emotional storytelling for children and adults alike. The movie opened in theaters in Japan on April 21, 2012.

What the World Said
A triumph of traditional hand-drawn animation. (Toronto IFF)
Hiroyuki Okiura needed seven years to complete this incredibly beautiful, handmade animated story, but it was worth the wait. (Sitges FFF)
This beautifully crafted work is a true labor of love. (Hawaii IFF)
With its complex characterizations and multiple storylines, Momo rivals mature live-action drama. (Variety)
A Letter to Momo is a wonderfully expressive and beautifully hand drawn tale that combines bursts of whimsy and kinetic humor with deep felt emotion and drama. The animation is superb throughout, from the painstakingly rendered serenity of the island's Shinto shrines to the climactic finale - that is the best flight of supernatural fancy since Spirited Away. (NYICFF)
Lively and amusing enough for youngsters and marked by mature themes that will impress the fussiest cinephile, A Letter to Momo isn't just one of the most remarkable animated films of recent vintage, it's among the best films of any stripe you'll see in 2012. (Fantasia Film Festival 2012)

Story
Momo is an 11-year-old girl who grew up in a big city.
However, following the premature loss of her father, she has to move with her mother to the old family house on a remote island. Here, time seems to have stopped: old wooden buildings, holy shrines surrounded by trees, fields painstakingly carved out from steep hills... and no shopping mall.
Needless to say, Momo is not overly enthusiastic about her new habitat.
Most of all, her heart is still feeling uneasy about an unfinished letter left by her father. A letter that contained only two words: "Dear Momo..."
What was dad going to say?
One day, exploring the attic of her new big house, Momo finds an antique book.
And from that moment, something really unexpected starts happening around her...
Main Staff
Director / Screenplay / Storyboard: Hiroyuki Okiura (Jin-Roh)
Key Animation Supervisor: Masashi Ando (Princess Mononoke, Spirited Away)
Key Animators: Toshiyuki Inoue (Tokyo Godfathers), Ei Inoue (The Cat Returns), Takeshi Honda (Evangelion: 2.22 You Can (Not) Advance), Tetsuya Nishio (The Sky Crawlers), Hiroyuki Aoyama (Summer Wars)
Background Art: Hiroshi Ono (Kiki's Delivery Service)
Animation: Production I.G (Ghost in the Shell, Jin-Roh)
About Hiroyuki Okiura
Born in 1966 in Osaka Prefecture, Okiura is considered a natural talent in the world of animation, having started his professional career at the age of 16 with no academic background. His credits include some of the most sophisticated animated feature films produced in Japan: Akira (1988, key animator), Patlabor: The Movie (1989, key animator), Patlabor 2: The Movie (1993, assistant animation supervisor), Memories (1995, key animator), Ghost in the Shell (1995, character design, animation supervisor, layout artist), Cowboy Bebob The Movie: Knockin' on Heaven's Door (2001, opening credit sequence director and key animator) and Palme d'Or nominee Ghost in the Shell 2: Innocence (2004, character designer, animation supervisor). Okiura made his feature film directorial debut in 2000 with Jin-Roh, that was selected for the 49th Berlin International Film Festival and won several recognitions in Japan and the world. A Letter to Momo is his second directorial effort after more than a decade-long hiatus.

Release in Japan: April 21, 2012
Format: 1 x 120'

official website (Japanese only):
http://momo-letter.jp/

© 2012 "A Letter to Momo" Film Partners