OVERVIEW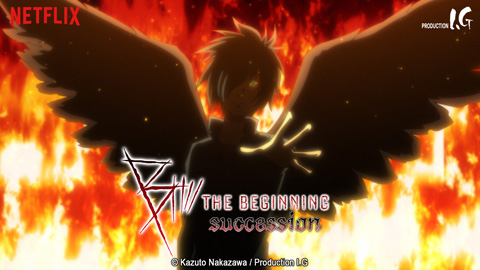 Those who kill God are to become devils.
Those who kill devils are to become Kings.

OVERVIEW
After the critically acclaimed Season 1, winner of three international recognitions and invited in competition at the 42th Annecy Animation Festival, supernatural thriller B: The Beginning is back with a brand new second season. Entitled B: The Beginning Succession, it is slated to stream globally on Netflix from March 18, 2021.
Production I.G is representing international sales worldwide.


Watch the Japanese trailer here.


STORY
In the first season of B: The Beginning, two men confronted their own past with great sacrifice.
Maverick detective Keith Flick fought against his demons and finally exposed the dark secrets behind the Kingdom of Cremona.
Mutant wunderkind Koku finally reunited with the most precious memory from his stolen childhood.
Several months have passed since then, and the entire world seems to have forgotten the turmoil caused by those events. As Keith returns to the Royal Police to conduct his own investigations, Koku and Yuna try to enjoy an ordinary life in peace.
But the consequences of the Jaula Blanca experiments are far from being extinct, as Koku soon discovers when his supposedly dead lab mate Kirisame suddenly shows up.
Netflix Debut: March 18, 2021
Format: 6 x 25'

© Kazuto Nakazawa / Production I.G