OVERVIEW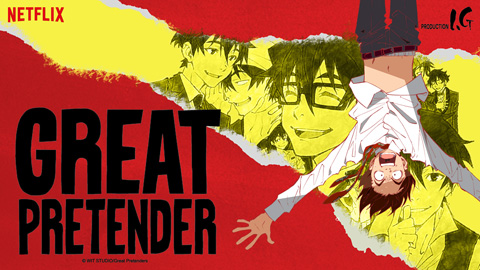 A con game on global scale is about to begin!
OVERVIEW
WIT Studio, the animation powerhouse behind global hits like Attack on Titan, The Ancient Magus' Bride and Vinland Saga, proudly presents Great Pretender, an original scam-themed comedic drama animated series, conceived and penned by Ryota Kosawa (Parasyte live-action films, Always: Sunset on Third Street) at his first take on an animation project. Drama expert Hiro Kaburagi (91 Days, My Little Monster, Kimi ni Todoke) is sitting on the proverbial director's chair. The characters are designed by anime legend Yoshiyuki Sadamoto (Neon Genesis Evangelion, FLCL, Summer Wars), while Hirotaka Kato (The Ancient Magus' Bride) is supervising the animations. The beautifully rendered pop art-style backgrounds are signed by Yusuke Takeda (Ghost in the Shell: S.A.C., Eden of the East, Sword Art Online). The addictive music score is composed by Japan Academy Film Prize nominee Yutaka Yamada, already familiar to anime fans for his work in Tokyo Ghoul and Vinland Saga. All-time hit song The Great Pretender, performed by Freddie Mercury, is featured as ending theme of the series.
Great Pretender will be streaming worldwide (except the People's Republic of China) on Netflix from August 20, 2020, and Production I.G oversees international sales.
Watch the Japanese teaser here.
Watch the Japanese trailer here.

STORY
People are ready to trust
what they would like to be true.
Self-styled "Japan's greatest swindler" Makoto Edamura is mainly targeting elder people and occasional foreign travelers. But when he tries to scam an apparently clueless French tourist in Tokyo, he can't possibly imagine that what looked like just another ordinary job is going to take him all the way to Los Angeles, tied upside-down on the famous Hollywood sign... And he is yet to find out what fate awaits him!

OFFICIAL WEBSITE (Japanese only)
http://www.greatpretender.jp/


© WIT STUDIO/Great Pretenders