OVERVIEW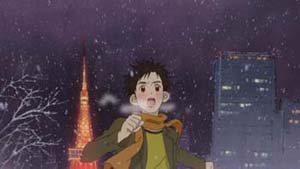 Tokyo Marble Chocolate
A pure love story, colorful and sweet, yet a bit bitter.
Just like a piece of chocolate.
Production I.G teamed with BMG Japan to produce a two-volume OVA (direct-to-video) animation entitled Tokyo Marble Chocolate. The OVA celebrates the 20th anniversary of the studio. After having its world premiere at the 20th Tokyo International Film Festival (Oct 20-28, 2007), Tokyo Marble Chocolate was released in home video on December 19, 2007.
What the World Said
This refreshingly different, cheerily bittersweet anime rewards repeat viewing. ♦♦♦♦ (Neo Magazine UK)
This sweet and earnest little love story will easily win you over with the sheer force of its endearing charm. 8/10 (UK Anime Network)
Overview
The plotline of Tokyo Marble Chocolate is inspired by two songs by two leading Japanese musicians: SUKIMASWITCH and SEAMO. SUKIMASWITCH is a pop duo composed by Takuya Ohashi and Shintaro Tokita, who have already appeared in the annual Kohaku Song Contest in two consecutive years (2005, 2006) since their brilliant debut in 2003. On the other side, SEAMO is a hip-hop artist whose songs filled with love and humor have brought many passionate followers to this day.
Tokyo Marble Chocolate marks the directorial debut for Production I.G's enfant terrible, Naoyoshi Shiotani, who later went on directing Blood-C: The Last Dark and Psycho-Pass. Shiotani is flanked by another of I.G's young talents, Kyoji Asano, in charge of the animation direction. At the time, Asano was widely praised for his work in Ghost in the Shell: Stand Alone Complex series, and today he can boast global fame for his work in Attack on Titan. Manga artist Fumiko Tanikawa (Ohitorisama Monogatari, Kakueki Teisha, Kimi to Boku no Machi de) plays an essential part in the production with her delicate, shojo manga-style character designs, while TV drama hit specialist Masaya Ozaki (Kekkon Dekinai Otoko, Satorare, Love Generation) writes the screenplay. The beautiful hand-drawn background art is provided by veteran Shichiro Kobayashi (Urusei Yatsura 2: Beautiful Dreamer, Lupin III: Castle of Cagliostro).
Takuya Ohashi and Shintaro Tokita, from SUKIMASWITCH, and SEAMO will also be transformed into animated characters and make their appearances in this OVA.
Story Concept
The two videos revolve around a love story told from the different viewpoint of the two young lovers, a girl named Chizuru and a boy called Yudai. The first episode is seen through Chizuru's eyes, and is inspired by SEAMO's song Mata Aimasyou (See You Again), describing the mixed feelings just before the anticipated separation from the loved one. The second episode follows the story from Yudai's perspective, and is inspired by SUKIMASWITCH's song Zenryoku Syounen (Full Powered Boy) that portrays a young boy who breaks his defensive shell open and runs for the future.
Story
Serious and generous, but a bit shy, Yudai has been unsuccessful with the opposite gender.
Chizuru is an energetic and cheerful girl, but when it comes to boyfriends, she's been unlucky and clumsy, and never had a steady relationship. This is the first Christmas the couple spends together. Chizuru loves animals and Yudai plans to give her a rabbit in a box, but it turns out to be... a mini donkey?! As the funny creature escapes, Chizuru goes after it, and Yudai loses sight of them both!
The time that should have been spent together...
The important feeling that should have been revealed...
Small, but precious things that tend to be buried in every day life.
What answer will the two youngsters find while separated from each other?

Yudai and Chizuru - their feelings and the time they spent far from each other are delicately unfolded in this double-sided pure love story told from two different perspectives!
© 2007 Production I.G / Project Tokyo Marble Chocolate