OVERVIEW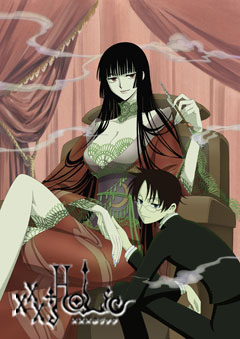 xxxHOLiC

High school student Kimihiro Watanuki can see "ghosts" that ordinary people can't. One day, he meets Yuko Ichihara, the proprietor of a strange shop. She says, "I can make any wish come true." But she asked for an "appropriate remuneration" for it. To "remunerate" Yuko for her services to alter his spiritual tendency, Kimihiro is forced to start working at her shop...
After the feature film xxxHOLiC - A Midsummer Night's Dream, released in summer 2005, CLAMP and Production I.G continue their collaboration with a brand new TV series! This time the whole series concept is supervised by Michiko Yokote (Cowboy Bebop, Bleach) and CLAMP's Ageha Okawa in person.
Studio 5 (xxxHOLiC movie, The Prince of Tennis) is in charge of the animation, under the supervision of producer Toru Kawaguchi.
Air date in Japan: April 6, 2006 ~ September 28, 2006
Format: 24 x 30'
© CLAMP·KODANSHA/Ayakashi Workshop
related website (Japanese only)
http://www.tbs.co.jp/holic/