Vampire in the Garden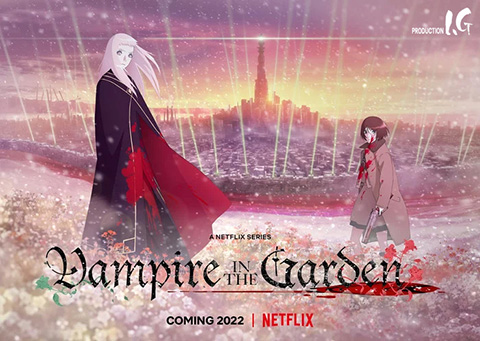 Searching for the Garden of Eden.
OVERVIEW
Production I.G and WIT Studio present Vampire in the Garden, a new Netflix Original Anime Series.
Set in a war-torn dystopian future where the remnants of a defeated human race struggle to survive in a world dominated by vampires, the series is directed by Ryotaro Makihara (The Empire of Corpses), who is joined by Hiroyuki Tanaka (Claymore, Hellsing Ultimate) as assistant director. Award-winning super animator Tetsuya Nishio (Naruto, Jin-Roh, The Sky Crawlers) is taking the double role of character designer and animation supervisor. The bleak, snow-covered world where the two protagonists, Momo and Fine are desperately looking for peaceful coexistence is designed by Satoshi Takabatake (Attack on Titan, Great Pretender, Vivy) and Kazushi Fujii (Howl's Moving Castle) while the neoclassical orchestral score is written by Yoshihiro Ike (Blood: The Last Vampire, B: the Beginning). Animation is created at Production I.G's sister entity WIT Studio (Attack on Titan, Great Pretender.)
Vampire in the Garden is coming worldwide on May 16, 2022 only on Netflix.
Production I.G oversees international sales.
Watch the English-subtitled trailer here.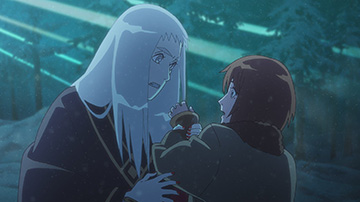 STORY
It's been a long winter for mankind, overthrown from its place of dominance after being defeated in the great war against vampires.
A small city-state protected by a massive wall of light has become one of the last strongholds of the human race -its leaders determined to regain control over the world they have lost.
But within the oppressive city walls, young Momo dreams of a peaceful coexistence with humans' greatest foe.
On the other side, vampire queen Fine, who once loved a human, has decided to desert the battlefield.
Seen as betrayers by their own kind, the two have a fateful encounter during yet another savage battle. Together they start a journey in search of "Eden," a utopic garden of peace that old stories are whispering about, but no-one has ever seen...
©WIT STUDIO/Production I.G