OVERVIEW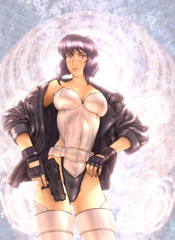 Ghost in the Shell:
Stand Alone Complex

Get out of the Network!
In the year 2030, digital networks are reaching out everywhere. IT has advanced to drive human will, converted into light and electrons, in one direction, but not enough to turn a "loner" into a complex being called an "individual."
Information networks continue to expand and crimes continue to become more complex. In this society of chaos, an organization that specializes in hunting down and eliminating a crime before it occurs was established. This is Section 9, the so called "Stand Alone Complex", or S.A.C., under the direct supervision of the Ministry of the Interior.
Its duties include a wide range of investigations, such as responding to critical cyber crimes, guarding VIPs within the country, revealing political corruption, investigating violent murder, and dealing with top secret assassination cases. The elite S.A.C. is at its best in cyber confrontations, but it is also extremely capable of physical confrontations by utilizing high quality cyborgs.
Air date in Japan: October 2002 ~ October 2003
Format: 26 x 30'
© Shirow Masamune · Production I.G/KODANSHA